UAE Official Homepage
UAE-0.8.25r1 for FreeBSD
UAE-0.8.21 for NetBSD
UAE-0.8.6 for Macintosh
UAE-0.8.15-1 for OpenBSD
UAE-0.8.21 for Linux (Alpha)
UAE-0.8.21 for Linux (PPC)
UAE-0.8.7 for IRIX
UAE-1.1.1 for Windows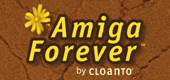 If you want to go the easy way on Amiga running on PC you can order Cloanto's Amiga Forever 2005 (Premium Edition) by clicking on the picture.
Not only you got an all-in-one Amiga emulation but also data sharing within Windows. In package you also receive licensed versions of the Amiga OS, which are needed by emulators, that Amiga L33tz can't provide you due to legal reasons, bonus software and hours of videos.